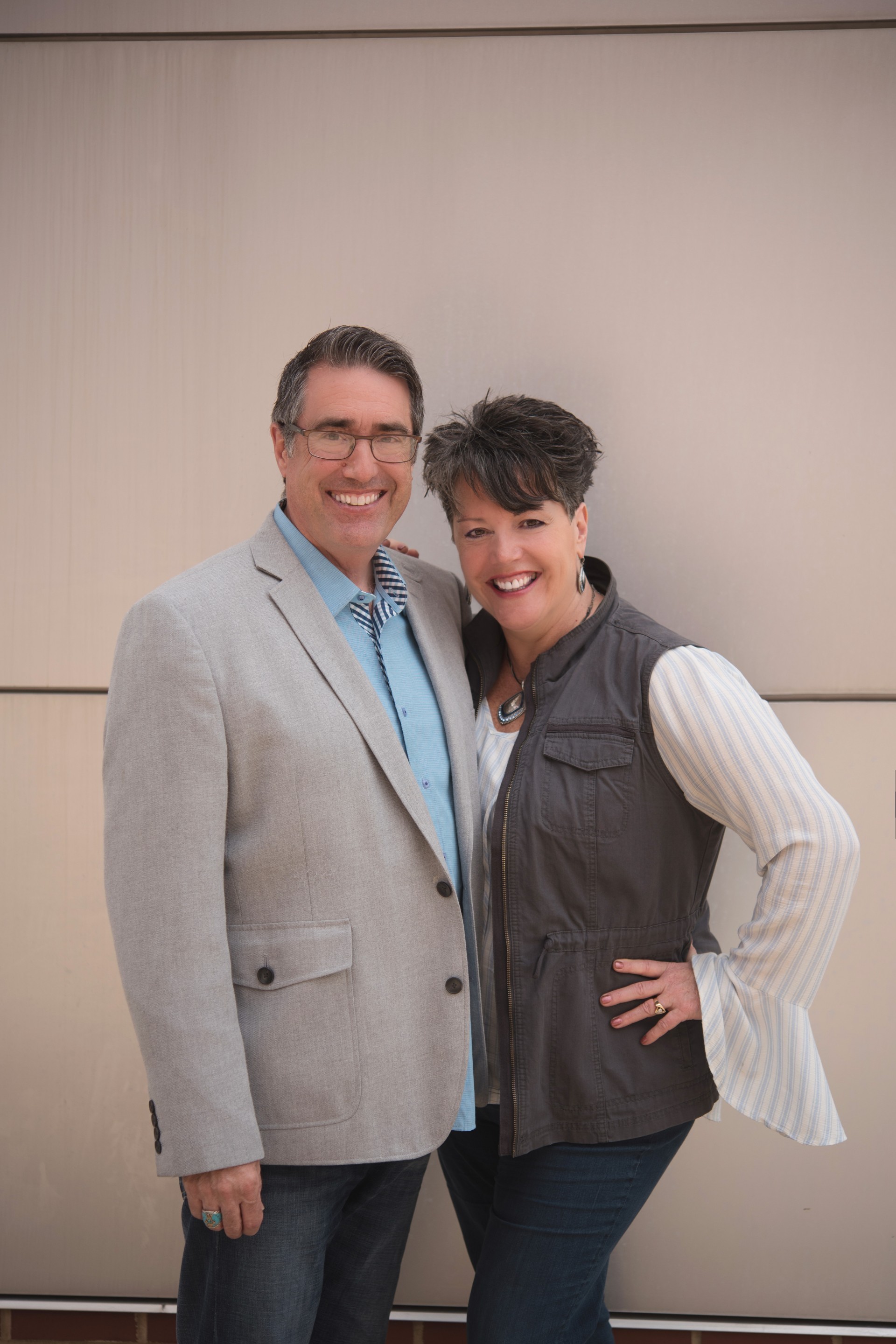 Perry and Joy co-lead Real Living Ministries as a team. They also serve as national leaders for Heartland Apostolic Prayer Network (HAPN). They have three adult children; Carley, Cami and Perry each play an active role in their ministry.
Joy's passion is to draw the body of Christ into a more intimate relationship with our Bridegroom, King Jesus. Holy Spirit has anointed her with prophetic gifts, which invite Him to minister in a very personal way. Her heart for setting the captives free led to the start of The Unleashed Healing Center in 2007. UHC exists to help people encounter God and receive emotional and spiritual healing.
Perry is a Market place Apostle serving our community as Managing Director and Commercial Relationship Manager for Chemical Bank, Youngstown, Ohio. He served as Treasurer on the board of a local church for over fifteen years before starting Real Living Ministries. Perry's unique understanding of business and church life helps to facilitate his passion for market place ministry. He also served as Campaign Treasurer for Congressmen Bill Johnson (OH-06) and is a spiritual advisor for many in his sphere of influence in the community. Perry's Market Place Apostleship is leading Real Living Ministries into local and national Influence for the Kingdom of God.
Perry and Joy have a shared passion to identify, activate and release spiritual gifts, equipping the saints for the work of ministry. They have a dream to start the "Crescendo School of Ministry," RLM is working on that goal through the realXperience, which you can learn more about on the home page.
Perry and Joy Chickonoski
CO-LEADERS

Paul & Teri Moser
CAMPUS COORDINATORS
Paul and Teri are the campus coordinators for Real Living Ministries, assisting in the details and operations of the Sunday service as well as the development of the RLM vision and mission. They have a heart to develop leaders, creating opportunity for people to get plugged into their destiny and activate their heart for service.
In addition to this, Paul coordinates the "Kingdom Men" Ministry. He utilizes his passion for worship, sensitivity to Holy Spirit, and personal experience to create a unique and empowering atmosphere for men to thrive in spiritually.
Teri is also our worship ministry department head, with several worship teams and worship leaders serving under her guidance. Teri has lead worship in various venues, with the same worship team, for more than twenty-five years. Her humility and passion for unity has created a covenant environment, allowing her to use her passion, skill and leadership for developing the next generation of worship ministry.
Paul and Teri are also life coaches for the UnLeashed Healing Center, specializing in married couples and healing through sound balancing. They have been married for over a decade and have three married children and four grandchildren.

Larry & Judy Cavicchi
PASTORS
Larry and Judy have served in ministry for forty years, both locally and internationally. They have been married for 50 years, having three sons and six grandchildren. They pioneered three churches before coming to Real Living Ministries. Many of their spiritual children have become pastors and missionaries all over the world. They have traveled to mission fields and spoken in seminars and conferences.
Pastor Larry serves in the capacity of prayer chaplain at Valley Christian Schools and is actively involved in several city prayer groups. He also teaches a weekly Bible Study at the YMCA where his love for the Word is evident.
Pastor Judy is the pastor of the Unleashed Healing Center, where she mentors and trains our life coaches, as well as ministers to our clients. Her heart is to love and comfort God's people.
Both Pastor Larry and Pastor Judy have a desire to equip people to know God more intimately. Ultimately, they want to see great healing, both physical and spiritual, in the body of Christ. Their hearts of compassion and dedication to God's Word are changing the culture one person at a time.


Laurie Bertelsen
PROPHETIC LEADER
Laurie is married to Bob Bertelsen. Together they have three daughters - one biological and two adopted. Laurie is pastor over the prophetic ministry, leading a prophetic team called Pro Recon. This team is active in many areas, but is especially passionate about prophetically praying for land, atmospheres, people and time. It is the team's desire for each area of our community to be reconciled and aligned back to Father God's original intent.

Laurie is also a senior Life Coach at our Unleashed Healing Center. As a UHC life coach, she leads a ministry called Abba Father's Love (AFL). AFL ministers to families with children who have behavioral, foster and adoption issues. This ministry includes parental support groups, life coaching and a blog, all developed to help families heal and become united. It is a deep passion of Laurie's to see broken hearts and families put back together again. Laurie's ministries emphasize her partnership with the Trinity, who accomplishes the healing.

Star Dominick
ADMINISTRATOR &
MARKETING PROJECT MANAGER
Star's passion is to come alongside leaders, helping to bring their vision and dreams into fruition. She brings to our team years of expertise with both non-profit ministries and for profit corporations. A strong communicator and seasoned administrator and marketing project manager, Star carries the dynamic ability to bring diverse teams together to execute against project goals and tight timelines – while maintaining a fun and enjoyable work environment.
Star thrives on projects with various details and multiple moving parts. She offers a unique combination of creative and analytical thinking – from crafting email campaigns to managing the details of multiple projects—meeting project goals on time and on budget. Her greatest asset to our team is her ability to empower leadership with unity and momentum by creating clear "running lanes" for those she serves with.


Barb Greene
ADMINISTRATIVE ASSISTANT
Barb's gift of service has been a crucial part of the development of Real Living Ministries. She works in the office as the bookkeeper and the liaison for the office, our Sunday satellite location and the YMCA. She is also the equipment manager and bass player for the worship team. Barb is an amazing aunt and spiritual mother to many.

Carley Chickonoski
RECEPTIONIST & WORSHIP LEADER
Carley works as the receptionist and assistant to the office administrator for Real Living Ministries and the UnLeashed Healing Center. Carley's heart for worship and young adults has made for a great combination in developing weekly worship nights and outreach fellowship gatherings. Carley is currently the worship leader for our Sunday service.